VIBRATION TEST SYSTEMS * 10246 CLIPPER COVE * AURORA, OHIO 44202 * 330/562-5729

---
Multiple Vibration Systems 90 To 200 Pound Peak Sine Force

VTS Offers three systems for multiple vibration input testing.
Two of the systems consist of two vibrators and a dual channel amplifier. Separate operation with individual control of the vibrators or series connection with a single control signal is conveniently accomplished. The other system consists of two vibrators series connected and a single channel amplifier.


Systems include:Two vibrators with trunnions, fan cooled low-distortion linear amplifier, cables, and hoses where required. A cooling blower is required for the vibrators at any force output of 45 pounds or greater (the B-1 Blower is recommended).
Multiple Vibrator
Peak Sine Force Specifications
DS 90
DS 130
DS 200/150
Rated Force, peak sine wave
2 vibrators
45 lbs. ea.
65 lbs. ea.
100/75 lbs. ea.
1 vibrator
50 lbs.
100 lbs.
100 lbs.
Amplifier Cooling Fan
Included
Included
Included
Vibrator Cooling
Not Req'd
1 Required (1)
2 Required (1)
Rated Velocity
2 vibrators
45 in/sec.
70 in/sec.
70 in/sec
1 vibrator
75 in/sec.
100 in/sec
100 in/sec
Maximum Acceleration,
bare table
2 vibrators
65g
100g
110g
1 vibrator
75g
150g
150g
Useful Frequency Range
2 vibrators
2-6500Hz (90#)
2-500 Hz (100#)
2-6500 Hz (130#)
2-500Hz (140#)
2-150 Hz (160#)
2-6500 Hz (150#)
2-500Hz (160#)
2-150 Hz (200#)
1 vibrator
2-6500 Hz (50#)
2-6500 Hz (100#)
2-6500 Hz (100#)
System Power Required
100-240V single phase 50/60 Hz
7a/120V
3.5a/240V
10a/120V
5a/240V
20a/120V
10a/240V
(1) The B-1 blower is recommended
Specifications subject to change without notice.
---
Multiple Vibration Systems 65 To 100 Pounds RMS Random Force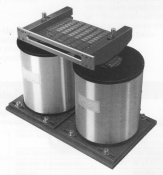 The significantly simplified fixture approach, which was originally designed for printed circuit board testing, is extremely low in weight and permits the use of smaller vibrators for testing large area lightweight packages of varying sizes and shapes.
The unique design of this VTS multiple vibrator arrangement provides circuit board resonance more nearly approximating actual chassis mounted resonance for more realistic screening.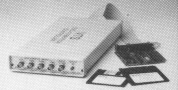 Includes the DVC-4 Random vibration controller. It permits you to utilize the capabilities of your Pentium computer to perform as a vibration controller. See the Four Channel Digital Controller page for more details. The adjustable base plates are available to accommodate boards ranging in size from 8 to 18 inches or more in length, and up to 15 inches in width.
Multiple Vibrator
RMS Random Specifications
DR 65
DR 100
Rated Total Force RMS Random
2 vibrators
65 lbs
100 lbs
Frequency Range
5-2000 Hz
5-2000 Hz
Amplifier Cooling Fan
Included
Included
Vibrator Cooling
1 Required (1)
1 Required (1)
System Power Required
100-240 V single phase 50/60 Hz
10a/120V
5a/240V
20a/120V
10a/240V
(1) The B-1 Blower is recommended
Specifications subject to change without notice.<!-********************************** FOOTER *******************************************->
---

---